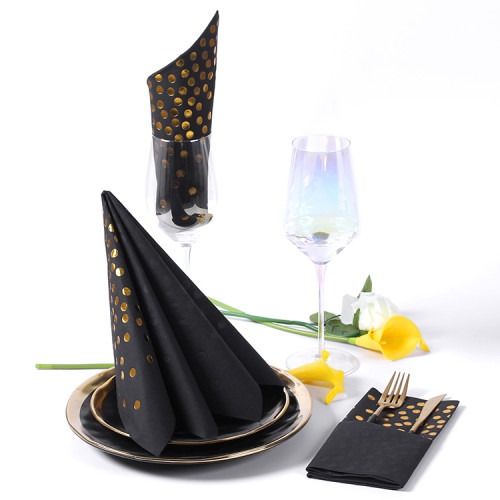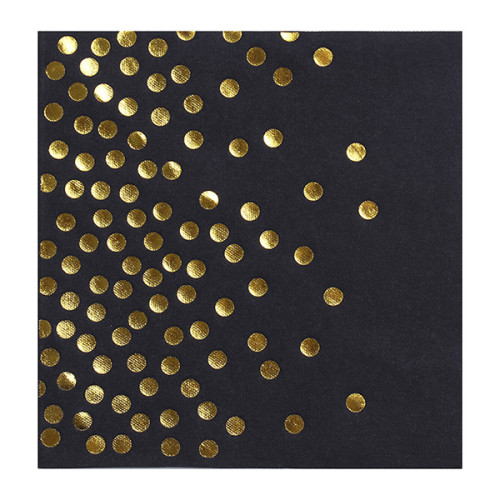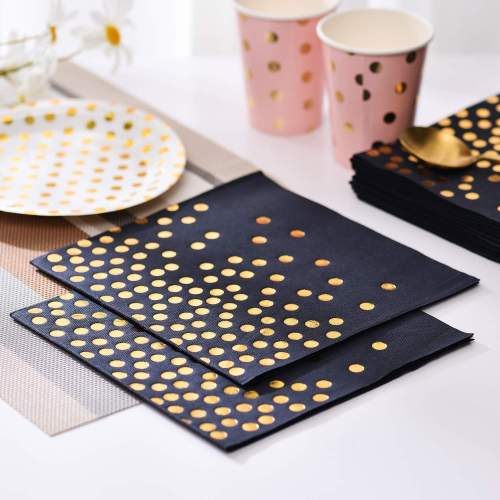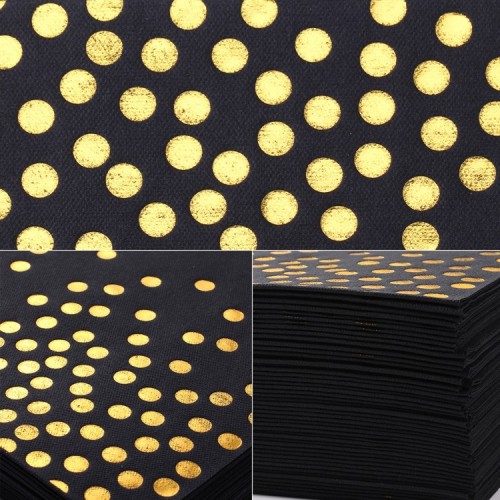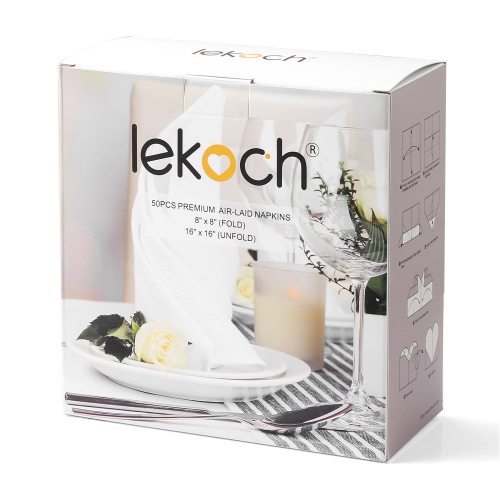 Lekoch Air-laid Disposables Paper Black with Gold Dots Napkins 50PCS
Item specifics
Brand

Lekoch
Material

The original wood pulp
Color

Black and gold dot
Packing

50ocs/box
Description
These Air-laid disposable White Better Than Linen Buffet towels are made from premium tissue and have a smooth cloth-like feeling. These disposable napkins come pre-folded square. Perfect for your catering business, restaurant, or cafe, this Choice napkin is a great value that doesn't compromise quality. Additionally, this versatile napkin can serve as an economical alternative to small plates, as it's great for snacks, desserts, and hors d'oeuvres at your special event or private party.
Features

Perfect Size

Use these versatile napkins anywhere from bars and restaurants to catered events and parties.

Napkin Folding

These napkins are very easy to fold any napkin styles to impress your friends or guests.

Natural wood pulp: (highest quality in napkin)

Only wood pulp used for the first time can be called the natural wood pulp. Usually, its fiber content is about 80% or more, so the napkin made of natural wood pulp is even, delicate and healthier.

Large Size & Heavy-duty Disposable Hand Towels:

Make your every guest feel special using these disposable paper towels, smooth and has a size of 16 x 16 inches when unfolded that guests can thoroughly dry their hands on one towel. Not only your guests will feel exceptional, but also safe as you can prevent cross contamination and the spread of any infectious disease.
Dimensions & Specs

*Manual measurement, data is for reference only
Application scenario
Comparison using a regular table cloth napkin, these disposable paper guest towels are far more efficient to use when you're having a big event such as Thanksgiving, Christmas or New Year Eve's house party which saves your time doing laundry. Hygienic and hassle-free which will leave your guests fresh and clean after having a great dinner at your very own home.

Product style
Our disposable paper hand towels have a strong construction and made of a superior quality substance which you can utilize guilt-free. Quick and easy to use and dispose and environment-friendly that you're not only protecting your guests but also mother nature. A must-have home essential that is at a great value for your money.