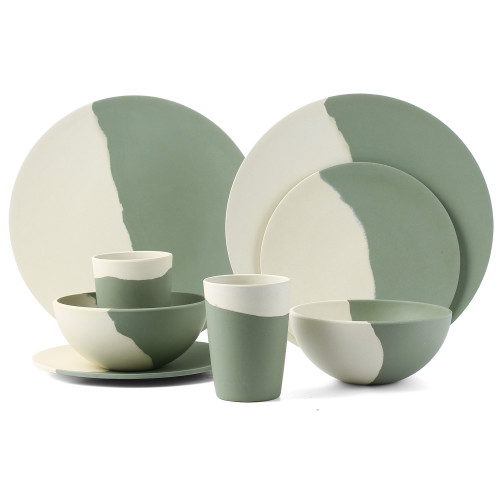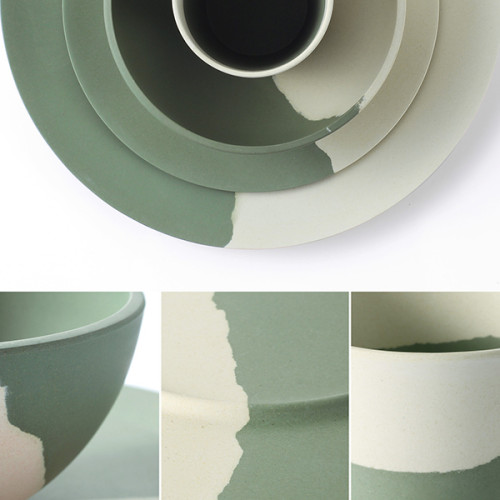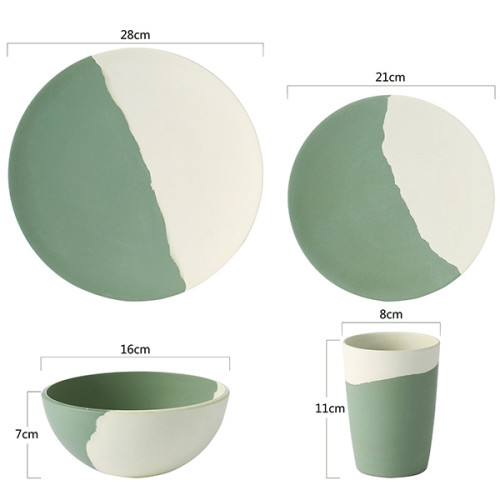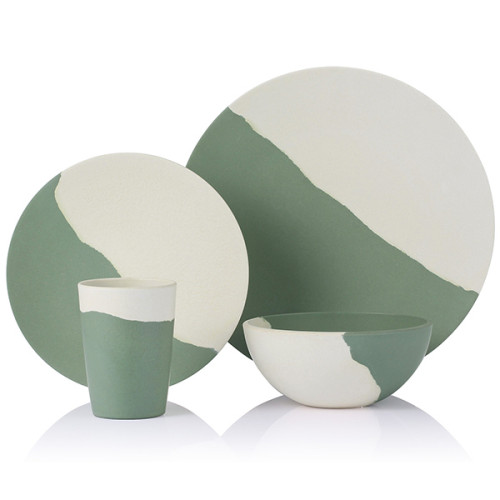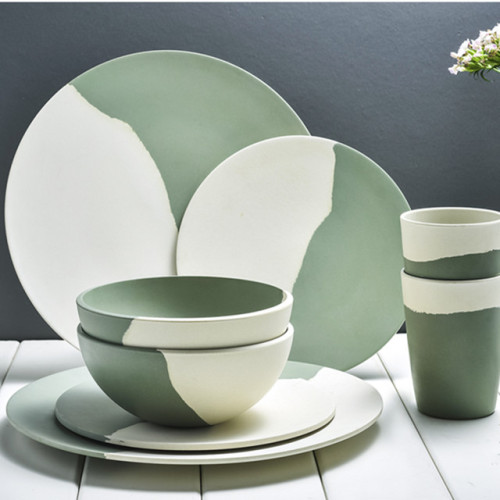 Lekoch® 8pcs Eco Friendly Bamboo Fiber Dinnerware Set for 2
Item specifics
Color

Green&Beige
Quantity

2 set 8 pieces
Brand

Lekoch®
Item

dinner plates , salad plates ,cups
Description
Details
Brand: Lekoch® (BUY NOW).

Material: Bamboo fiber 40%, corn starch 30% and other plant fibers.

Certificate: FDA, FSC, EU.

Quantity: 2 set 8 pieces.

Dishwasher -- YES.

Recyclable -- YES.

Microwave -- NO.
Features

NATURAL BAMBOO FIBER

The safety of bamboo's material is our priority. Extracting pure natural material from bamboo fiber is the most core technology of the product. Bamboo is naturally anti-bacterial, high density, BPA free, Eco-friendly and biodegradable.

FDA APPROVED

It is dishwasher safe, but we suggest hand-wash is better.Dinnerware set is made of bamboo fiber 40%, corn starch 30%, and other plant fibers. The product is approved by FDA. 100% biodegradable bamboo fiber combines with a food-grade resin binder.

EASY TO CLEAN & NO REMAINS

Bamboo dishware packs are simple, durable and functional, pretty easy to clean by hand wash or dishwasher, quickly wipe up foods and odor remains.

MORE OPTIONS

It is dishwasher safe, but we suggest hand-wash is better.Bamboo tableware sets is a perfect choice for picnics, outdoor&indoor party. Being available for all kinds of temperature' foods, hot and cold foods. Attention: Max temperature 160 ℉/70 ℃, Not be available for microwave or oven.
Dimensions & Specs

*Manual measurement, data is for reference only
Application scenario
Lekoch range includes traditional and modern design, the biggest quality manufacture has been regarded not as an option but as an absolute necessity. Judicious selection of raw materials, the ergonomic study of the shapes, Sober, practical and refined design, Perfection in the finish. Providing safe and healthy products in the range of dinnerware sets is the core value of the company. Quality control with total commitment.

Design Inspiration of Lekoch Harmony Series
If we look at our earth from outer space now, you can see that the three most obvious elements are land, ocean, and sky clouds. Look closely, how alive this planet is.
However, such a picture has appeared on the Internet, which is the appearance of the future earth drawn by a netizen.The above two strong comparison charts are very shocking. Although she cannot be like this in the century we live in, we still can't bear her to dry up in the future.
So Lekoch's designers extracted elements through graphic associations and color combinations to design our harmonious series of bamboo fiber tableware.

(1)Prairie.
The prairie and white clouds converge in the sky, and a painting of the healing system is naturally fused. Spacious, cured and decompressed.

(2)Ocean
The combination of blue ocean and white clouds, blue ocean and cold and firm glaciers are our best optionsBut the final positioning of our model is ocean and extremely cold glaciers.Increasing climate change has forced us to face severe problems such as climate warming and sea level rise.White can not only bring warmth to people, but also define the severe cold. Combined with the dark blue, people can feel his majesty and shock, and can't help but pay attention to it.

(3) Moon
The design of the moon comes from partners. The moon is the closest object to the earth, which also makes the two closely related. For hundreds of millions of years, the moon and the earth have witnessed each other 's changes, and have been orbiting and accompanying each other, attracting each other and never leaving.Based on the love and gratitude to our partners, we chose gray to represent our partner colors, combined with pure white, to make this friendship more pure without impurities.