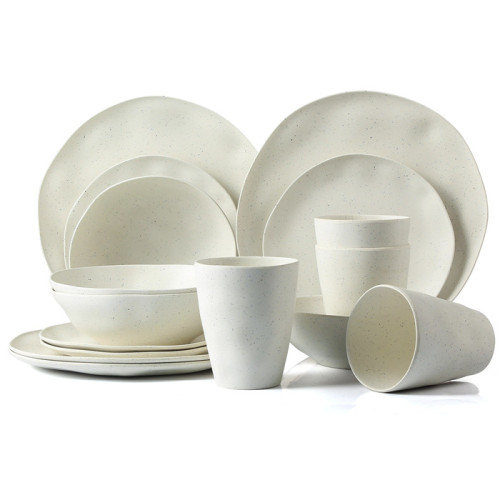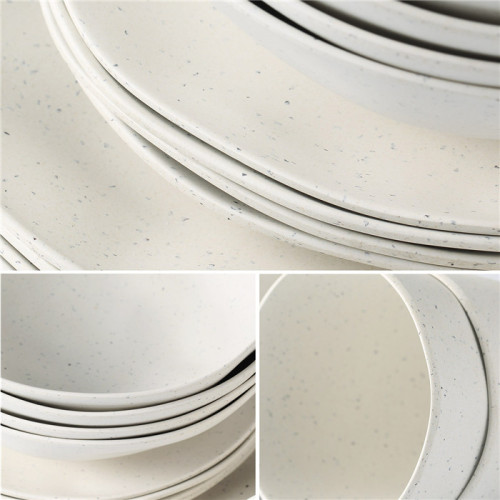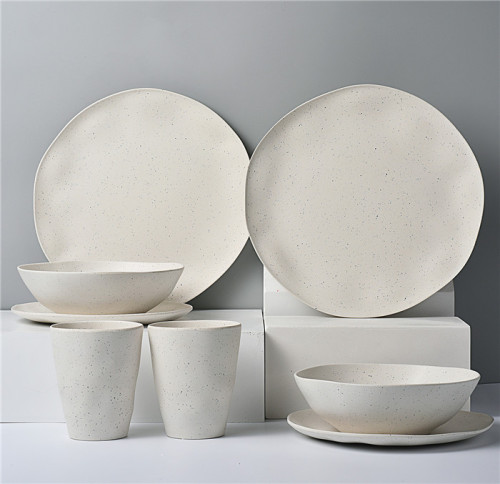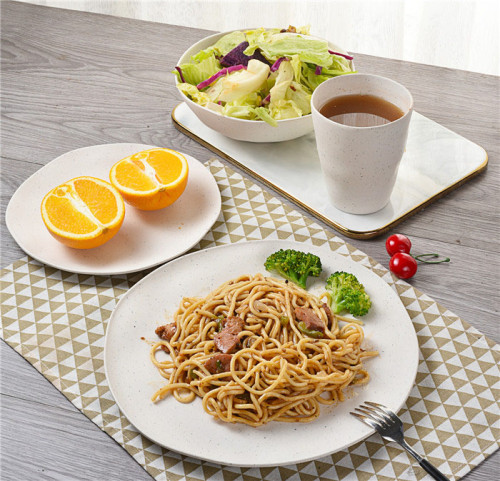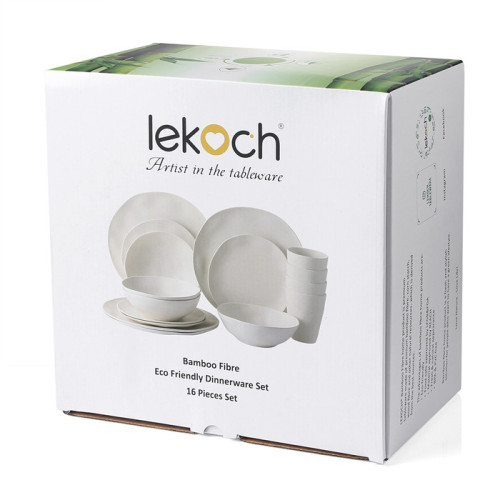 Lekoch® 16pcs Simulation ceramics Bamboo Fiber Dinnerware Set for 4
Item specifics
Color

Beige
Quantity

4set 16 pieces
Brand

Lekoch®
Item

dinner plates , salad plates ,cups
Description
Details
Brand: Lekoch®.

Material: Bamboo fiber 40%, corn starch 30% and other plant fibers.

Certificate: FDA, FSC, EU.

Quantity: 4 set 16 pieces.

Dishwasher -- YES.

Recyclable -- YES.

Microwave -- NO.
Features

NATURAL BAMBOO FIBER

The safety of bamboo's material is our priority. Extracting pure natural material from bamboo fiber is the most core technology of the product. Bamboo is naturally anti-bacterial, high density, BPA free, Eco-friendly and biodegradable.

FDA APPROVED

It is dishwasher safe, but we suggest hand-wash is better.Dinnerware set is made of bamboo fiber 40%, corn starch 30%, and other plant fibers. The product is approved by FDA. 100% biodegradable bamboo fiber combines with a food-grade resin binder.

EASY TO CLEAN & NO REMAINS

Bamboo dishware packs are simple, durable and functional, pretty easy to clean by hand wash or dishwasher, quickly wipe up foods and odor remains.

MORE OPTIONS

It is dishwasher safe, but we suggest hand-wash is better.Bamboo tableware sets is a perfect choice for picnics, outdoor&indoor party. Being available for all kinds of temperature' foods, hot and cold foods. Attention: Max temperature 160 ℉/70 ℃, Not be available for microwave or oven.
Dimensions & Specs

*Manual measurement, data is for reference only
Application scenario
Lekoch range includes traditional and modern design, the biggest quality manufacture has been regarded not as an option but as an absolute necessity. Judicious selection of raw materials, the ergonomic study of the shapes, Sober, practical and refined design, Perfection in the finish. Providing safe and healthy products in the range of dinnerware sets is the core value of the company. Quality control with total commitment.

LEKOCH wave series
The design inspiration of the wave series originates from the retro rough clay.The collision of traditional art and new environment protection art has stirred up a wave that gives a different wave to the blue sea of dining table culture.
The rough and natural clay pursues the simplicity of craftsmanship.
Not too many magnificent colors, nor a gentle and delicate touch.But with a different taste. The rough manual lines, natural simplicity.

Tide of the time
The original handicraft vision and the modern environmental protection material bamboo fiber combines the WAVE series.Bamboo, the fastest growing plant in the world, is the raw material for wave seriesWave comes from the ancient times with a simple and original atmosphere.It comes from nature, and then returns to nature, with inherent primitive beauty.
LEKOCH living in harmony with nature is our eternal faith.At the table we spend the seasons of our lives. We are always looking for a way for design and nature to coexist.

LEKOCH lifts up your retro feeling in the name of art.Yearning for the embrace of natureLonging for simple life in the busy rhythm of life.LEKOCH is close to nature,Own natureBack to nature.Back to the beginning-feel the era