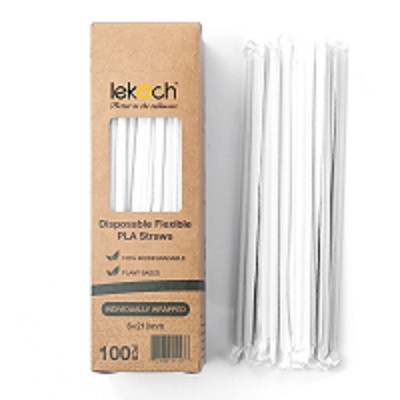 Lekoch 10.2 inch Black Plant Based Flexible Drinking Straws,Individual Package Disposable Alternative to Plastic Straw,100 Pack
Description
Lekoch 10.2 inch Black Plant Based Flexible Drinking Straws
Feature:
1- No ENVIRONMENTAL IMPACT: The PLA Drinking straw raw materials come from nature and back to nature, no pollution, Plant-Based Compostable Straws made of corn starch material in accordance with the standards of ASTM 6400, EN13432, BPI and OK COMPOST. Promoting Sustainable development of the earth's ecology.
2-Alternative To Disposable Plastic Straws:Lekoch's disposable long straws material is obtained by polymerizing lactic acid extracted from plants. The product is made of safe and environmentally friendly raw materials.In the certain conditions, it can be biodegraded and decomposed into carbon dioxide and water. It is a substitute for plastic straws.
3-Flexible and Suiltable for Every Occasion: Lekcoh straws are individually packaged, which will be more convenient and clean in daily use. Disposable straws are suitable for cocktails, water, juices, etc., while extended straws are the best choice for restaurants, bars, outdoors, and parties.
4-Packing:There are 100 pieces of Lekoch long straws per pack. Each piece is 10.2 inches in size. After being stretched, it is 12.6 inches. Therefore, it is very suitable for tall glasses. It will definitely make your day or party more colorful and bright.
5- Note: The material of the biodegradable PLA straw is made of plant material, When using straws in hot drinks, the straws will become soft, which is a normal phenomenon.